Art After Dark, Christmas Jack with Wood Frame.
December 19, 2019 @ 7:00 pm - 10:00 pm
Event Navigation
Art After Dark, Christmas Jack with Wood Frame
***This event has a limited class size due to the size of the painting and space.***
A Brand New Style for Art After Dark. I have teamed up with the awesome people at Creators Workshop to bring this awesome new addition to Art After Dark. Check out some of their special hands-on events here. – http://www.creatorsworkshop.ca/ This is going to bed one awesome piece!!!
Artist Tyler Dianocky will guide you through each step in a methodical process so each student can gain some skills, learn about color and bring home a masterpiece at the end of the evening. Each small step helps to produce the final image. 
This painting is done with acrylics on a large, 10.5″x 21″ wood Panel. We will start the class off with the painting. during drying times we will work on our wood frame. After the painting is completed and dried we will assemble the wood frame on top of the painting. 
– Attendees can choose the stain color for their wood frame. 
Attendees will use a stencil for character assistance. Attendees are encouraged to purchase a black Paint Pen, Either water or Oil-based. This will help with the thin lines on Jack. 

Get ready for a FUN evening of painting, creativity, entertainment, laughs, great music and food. Creators Workshop has a full menu and Bar. Check it out here – http://www.creatorsworkshop.ca/menu/
EXPERIENCE LEVEL: Easy – Stencils included.
LOCATION: Creators Workshop
DATE: Thursday, Dec 19th, 2019
TIME: 7:00pm-10:00pm
PAINTING: Christmas Jack with Wood Frame.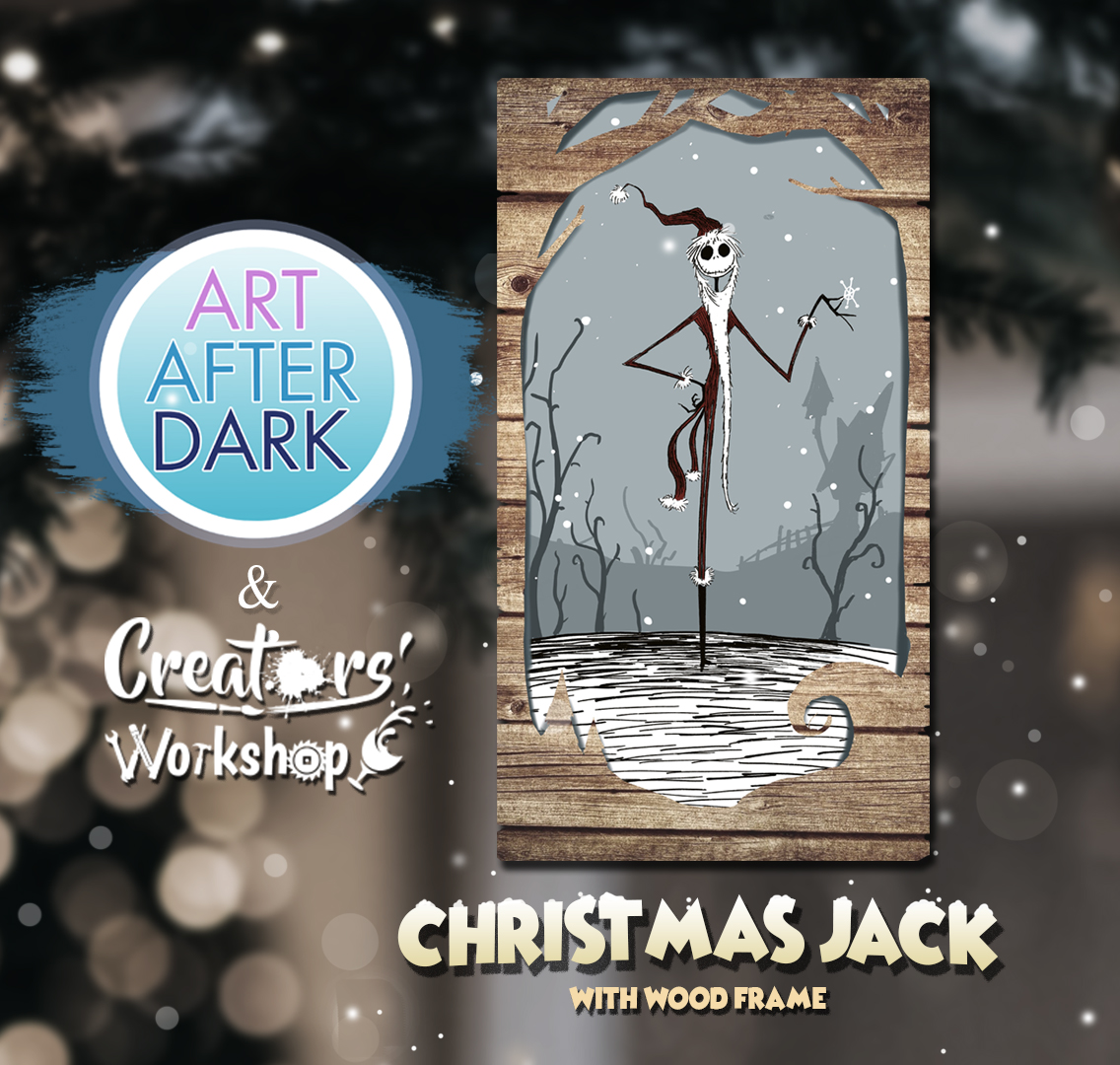 What's included?
-Painting supplies: paint, brushes, easel, wood frame and canvas. The canvas with wood frame is yours to take home at the end of the evening.
 -A great time with friends!!
***Due to the nature of the limited Ticketed event tickets need a min of 48 hours notice for cancellation. It is the responsibility of the purchaser to sell the ticket or find another person to fill the space if you cannot attend after the 48 hour period.
* This is a live public event and photography will be happening both from the organizer and the attendees.
*If the event is SOLD OUT. There are no refunds or exchanges as it is a limited, live ticketed event. 
(If this does happen, ticket holders can sell their tickets to people on the waitlist or post on the event forum.
* Regular ticket price of painting class is $45.
*This event is 18+
www.artafterdark.ca